I love to do crafts, sew, cook, and read. I saw this article this morning and thought how cute it is. I would think you could also use Christmas Wrap, especially paper that is double sided. Wouldn't that be cute!! I am going to go try this!! I think I have some mod podge up in my sewing room!!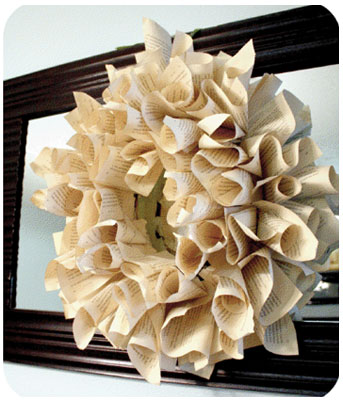 Most people have a "one time read" book lying around the house collecting dust. Why not put it to good use by making this amazing wreath? It's simple, fun, and cost effective to make. Plus, it's great for any holiday because there are so many different ways to accessorize it.
WHAT YOU'LL NEED:
•Old book – Check the Dollar store or thrift stores if you don't have one on hand.
•Paint – I used brown, but to make it more snazzy consider using mod podge and your choice of glitter.
•Sponge Brush
•Hot glue gun
•Wreath base – I recommend using a foam base. I got mine from Roberts for only $4.79 (after my 40% off coupon.) You could also go to the plumbing department of Home Depot or Lowe's and buy a six foot long piece of foam tubing. Cut it to the desired length and simply duct tape it together. This will cost you less than a dollar.
INSTRUCTIONS:
STEP ONE: Tear the front and back cover off your book. Take your paint and coat the three exposed edges of the book. Allow a couple minutes to dry. If you are using mod podge and glitter then run the mod podge over the three edges and sprinkle with glitter.
STEP TWO: Once this is dry, carefully tear out the pages of your book. Try to get a semi-straight tear.
STEP THREE: Take a page from your book and either roll it like a cone or fold it back and forth like a fan without making any creases. I traded off rolling and folding to give it more texture. Then use your hot glue gun to attach the pages to the wreath. Start at the outside edge of your wreath first.
STEP FOUR: Once the outer row is done, the following rows need to be shorter in length. Simply fold the page and inch or two at the bottom, making a tab. Glue the back of the tab to the wreath. Continue this until your wreath is full enough to your liking. Once you get to the final inner row, glue the pages as you did on the first outer row.
STEP FIVE: Ta-Da! Your wreath is complete. Now go ice your hands because if you're anything like me, you have several hot glue gun blisters.
This has been a guest post by Katie from Pleasant Grove, UT Thank you Katie!!