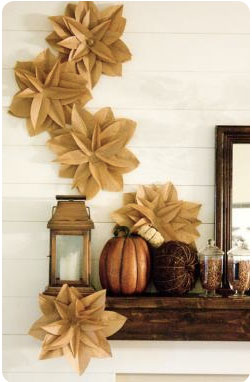 How to Make Cute Flowers from Brown Paper Bags!
I love these brown paper flowers! When I first saw them, I thought they had to be store-bought. They just look so elegant. But as it turns out, we can all make these at home using leftover brown paper lunch bags. They're the perfect autumn decoration, especially if you have more time than cash!
What You'll Need:
•6 – 8 brown paper lunch bags
•glue stick
•scissors
Directions:
1.With bottom flap of an unopened bag towards you, cut off the bottom of the bag above the fold.
2.Draw a petal shape on the bag and cut it out. Make the petal as wide as possible; make one end pointed, and just cut straight across the other end.
3.Save the small parts that fall out as you cut the petals. You will use them later.
4.Bend the petals in half length-wise and then glue 6-8 of them together at the straight-cut end, making a flower shape.
5.Repeat with smaller petal pieces that fell out as you cut. Make sure to overlap pieces as you glue and keep them slightly elevated for a 3-D effect.
6.Now you should have a large and small flower. Glue the smaller flower inside the large one and you're done!
If you want picture directions, please go to the following website!
Thank you!
A Place For Us
http://www.aplaceforusblog.com/2011/10/brown-paper-flowers-tutorial.html